ESTABLISHED IN 2018 AND FAST BECOMING ONE OF THE LEADING GROUNDWORKS, CIVIL ENGINEERING CONTRACTORS, AND REINFORCED CONCRETE FRAME CONTRACTOR IN THE SOUTH EAST. KINGSHEATH CONSTRUCTION IS A COMPANY WITH A VISION.
We seek to exceed industry minimum standards and provide a workforce that is beyond expectations of our clients.
We have an uncompromised commitment to setting new standards to achieve the highest quality end product.
Providing engineering solutions and groundworks servIces to complex developments, with a highly trained & competent workforce.
Our dedication, professionalism, and adaptability alongside our continuous strive for improvement, and on-going investment ensure we develop and maintain excellent relationships with all our clients, working in partnership to achieve shared goals.
DEMOLITION

Kingsheath Construction offer a full demolition package, with our specialist knowledge being able to decide on the method of demolition to suit, from minor works to demolition of housing contracts and large commercial units, site clearance, soft stripping works, stripping out works and asbestos removal, all carried out in accordance with current legislation.
We provide demolition services on commercial, industrial and residential projects, as well as the continuation of works post demolition in regard to site clearance and remediation.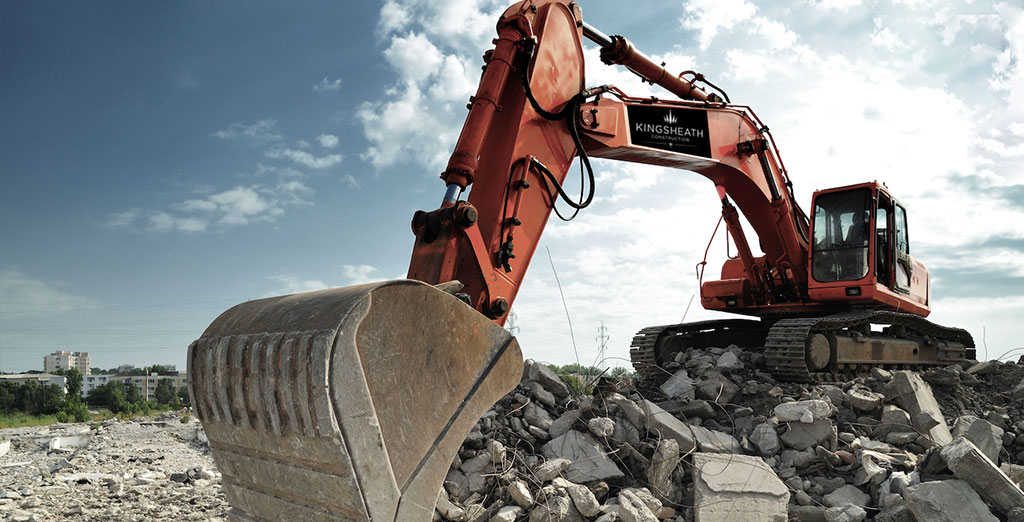 REMEDIATION

Kingsheath Construction offers a full range of essential site investigation, land remediation and ground engineering solutions, ensuring any contaminated site is remediated and compliant in a timely and exemplary standard.
From site investigations, risk assessments, volumetric analysis and remediation strategies to implementation, supervision and validation, Kingsheath Construction offers a complete service, tailored to meet your needs and commercial objectives.
We offer a multi-disciplined solution for all types of land remediation, working with clients in a collaborative and professional manner. Every project is different and we ensure technical excellence in all areas, not just with the finished site, but with detailed testing, QA surveys and reporting for regulator sign-off.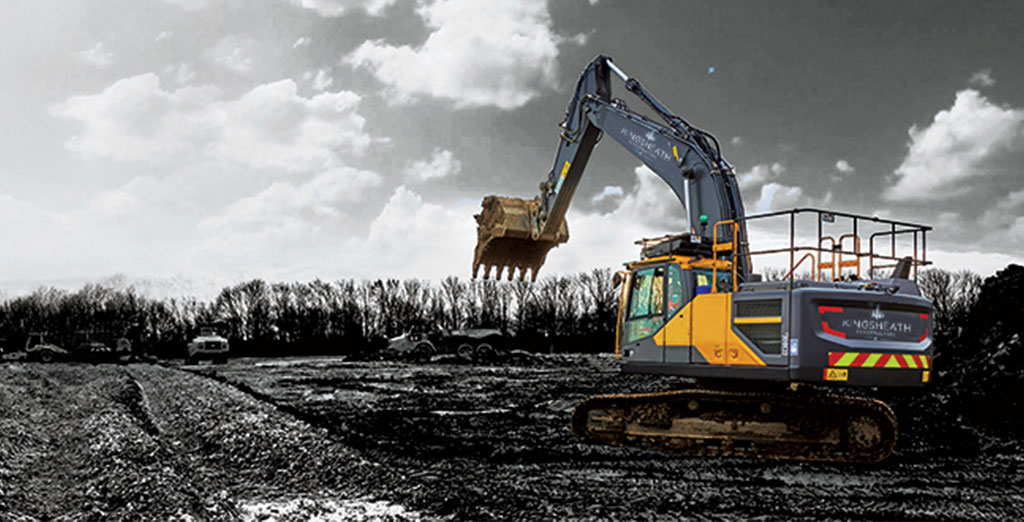 EARTHWORKS & ENABLING WORKS

Kingsheath Construction provide a comprehensive earthworks package that is fully focused on giving our clients a cost beneficial solution.
Earthworks and associate activities are carried out to ensure that our clients receive the best value. We have access to a wide range of the most modern specialist plant to carry out our works and we are constantly reviewing our methods to ensure we are using the most up to date methods along with the latest plant technology available.
We recognise our client's need in the constant development of brownfield sites. Ensuring we adopt the CL:AIRE code of practice when required, we promote the sustainable remediation of contaminated land. Further, this also assists us in finding the best value tipping fee and allows us to use material that can turn revenue rather than a cost for land filling.
Our full range of earthwork services include bulk earthworks, cut and fill, testing, stabilisation, excavation, material processing and handling, waste management and ground investigation.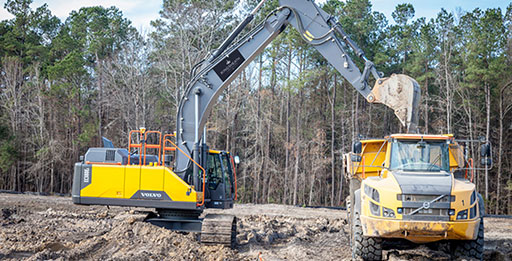 GROUNDWORKS

Groundworks forms the core function of our business.
Whether continuing on from demolition or enabling works, or undertaking a new build project which we can commence as Principle Contractor, we offer the full Groundwork's package with experience in all types of foundations and piling methods, continuing up to substructures and oversites, drainage, services and external finishes.
Kingsheath Construction have built up a desirable reputation with our Clients through our continued investment in safe working practices and dedication to using the most modern methods of Construction available to us. This is reinforced with repeat works from our existing Clients, as well as acquiring new Clients as a result of our exceptional reputation within the Construction Industry.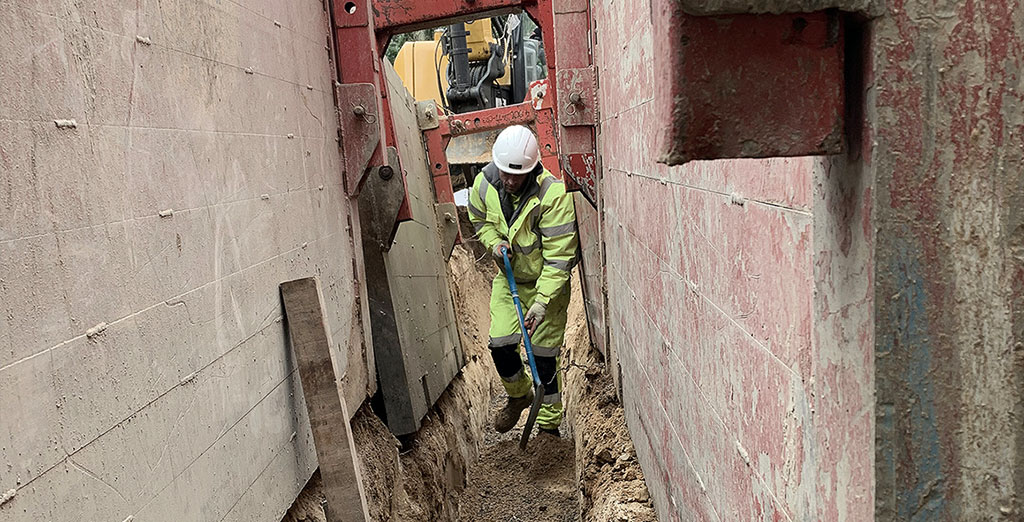 RC FRAME

Kingsheath Construction have established a specialist division in the construction of reinforced concrete frames. Our expertise and experience enables us to deliver reinforced concrete sub-structures and superstructures safely, within time and on budget.
Structures can be built to a wide variety of specifications and finishes in accordance with site specific requirements. Kingsheath Construction offers clients the most competitive service throughout the construction of reinforced concrete frame projects, and more importantly a single source contractor from below ground works to the final floor.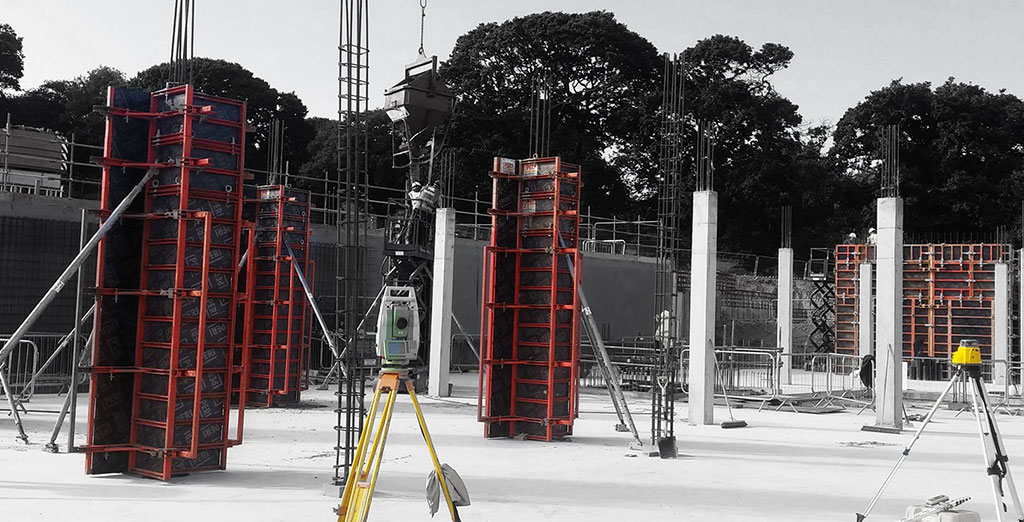 HIGHWAY WORKS

Kingsheath Construction has a broad experience of delivering complex Highways and Civil Engineering projects to ensure we keep people and businesses moving. We provide the full package required to carry out these works, from providing and maintaining traffic management, to full construction of local roads and highway improvement works.
Kingsheath Construction has a competent understanding of all current regulations and legislation to satisfy the Adopting Authorities, with our Highways Gangs (Operatives and Supervisors) being fully qualified under the New Roads and Street Works Act 1991.